Gaven, Schelotto, Hejduk: Three Crew SC-related social media topics of interest for today.



Gaven..
Crew fans not included in best MLS fan ranking
It may not be a huge surprise,
according to Forbes
, were one of the least valuable clubs.
But then Forbes ranked the league's

best fans as well

.
Based on four quantitative fan consumption metrics: attendance figures for the last two full seasons, television ratings for last season and season-to-date, latest merchandise sales – all provided by MLS – and social media followers on Facebook, Twitter, and Instagram.
All of that data wasn't placed in a nice chart or excel spreedsheet.
Therefore, Forbes may have just turned on a TV, saw who was on ESPN the most, and who has the highest attendance.
In addition, (along with Chicago, D.C. United, and Houston) were not even included in the overall ranking as it appears Forbes just quit after

the first 10 clubs

?
However, would put us, Chicago, D.C. United, and Houston easily above #9 New England.
And LA Galaxy at #3 is questionable.
May be one of the most valuable clubs but best fans?
If you expected a new stadium announcement to h

elp

things out with such rankings seems to be a few moons away.

Link

.
"We're going to have to be patient as we continue to organize all of the thoughts and options that we have in front of us," said
Crew SC President of Business Operations Andy Loughnane.
Here's what I think about being ranked after The Midnight Riders, LA, Philadelphia, NYRB, and NYCFC. 😂 Stick to money Forbes.
Schelotto..
Dom Dwyer may join Kaka on the unplayable list for Saturday
Dom Dwyer has been fitted for a face mask and may join Kaka in a spectator role against Crew SC Saturday.
Link
.
Which could be major problems for OCSC since they have to win to keep playoff hopes alive.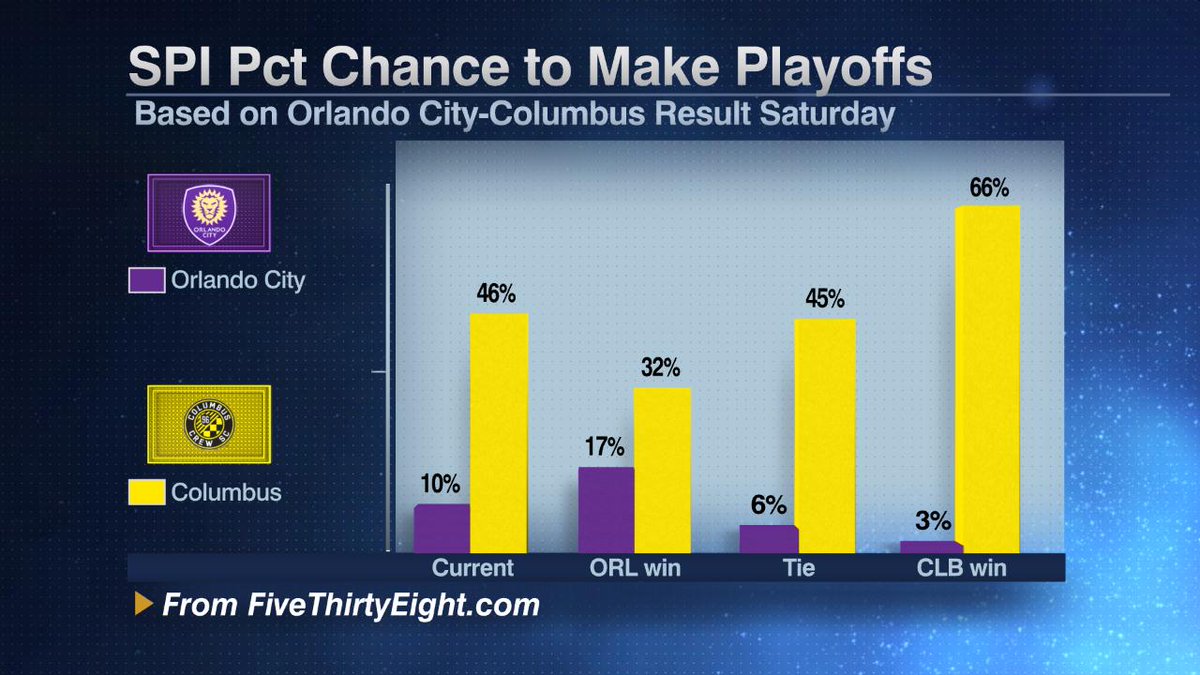 Columbus must look at Saturday as a must win as well. Crew SC hasn't done well in these six point swing situations. Putting a major dent in one of the teams closest behind could be a major boost; as why let them live for another day?
OCSC has other options without Kaka. Link. But, add Dwyer into that and may become a serious advantage for a Crew SC who haven't been good on the road (3-9-1).
If Columbus could have a solid road performance and win, their next 5 out of 6 after are all at home.
There is nevertheless one Crew player who wishes at least that Kaka was playing.
"I feel sad because always you want to play against the best players, but also it's good for us because he's a good player on the other team," Artur said. "He's a legend in Sao Paulo. All the fans like him. Everybody knows what he did and what he can do."
Link
.
Artur will get one more chance on October 15th away again at Orlando City. I hope that competition happens in midfield then.
If Kaka somehow misses that match too Artur will just have to join us for next year. 😉
Hejduk..
Could get streak started off well against struggling opponents
Orlando City hasn't won in five games, the Crew follow that up with the LA Galaxy who haven't won in eight!
Good chance at a nice road win. Followed up by a good opponent to start five out of six at home against.



Former Crew manager Sigi Schmid is hoping that a nice respite will solve things for the LA Galaxy.

Link.
Whereas, the Crew could end the 2017 season for two opponents in a row if those seasons haven't already ended.