Ghana's manager headed to Columbus to visit Ghanaian contingent (below with Ghanaian UVA striker Opoku included), Berhalter, and co.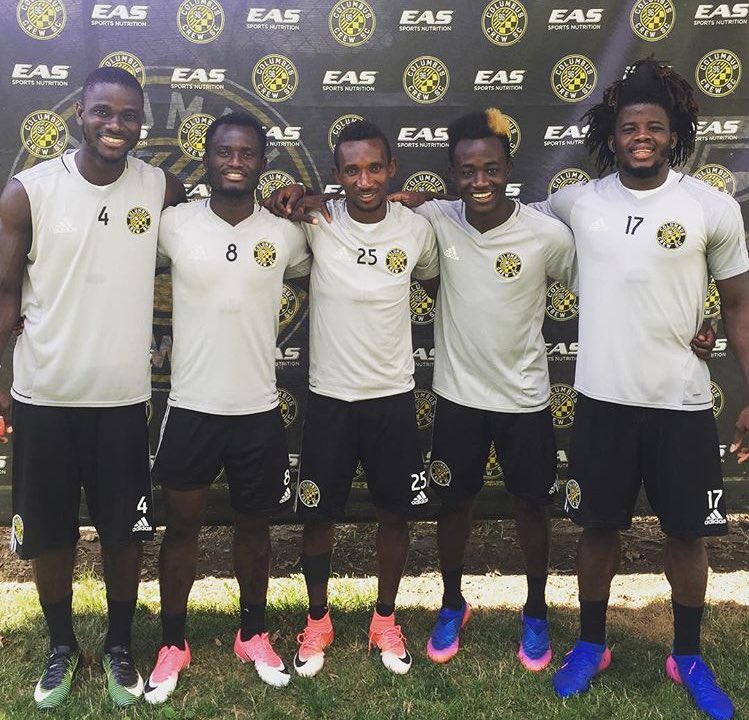 Gaven..
An international side that embraces MLS
Ghana's manager Kwesi Appiah stayed on after two friendlies against the USA and Mexico to visit clubs and players in MLS. He's already visited a Ghanaian quartet in DC United. Link.
And will wrap that up by visiting another quartet here in Columbus. Link.
For Crew players like Mohammed Abu, joining Columbus was perhaps the best thing to happen internationally.
Before doing so Abu had 5 years since an international appearance.
In one week he had two, as a substitute in a 1-0 loss to Mexico and a starter in a 2-1 defeat to the US.
For the Columbus quartet, the re-introduction of Appiah is likely very good.
As I have a hard time visualizing former Chelsea manager Avram Grant likely going on a field trip to DC United and Columbus.
Schelotto..
Horseshit
That is what Major League Soccer's snub of Justin Meram, Federico Higuain, and Ola Kamara from the All Star roster is.
If only the name was Justinho....

— Justin Meram (@JustinMeram) July 18, 2017
Even Commissioner Garber couldn't be bothered to rectify things.
Instead giving his pick to Dom Dwyer who nearly has more US goals this season, than MLS ones.
2 US ones, 5 MLS ones as a STRIKER.
Federico Higuain and Justin Meram both have 9 and 8 from MIDFIELD. Along with 5 and 6 assists respectively.
MLS needs to make it some sort of statistically-related, algorithmic choice in the future.
Get over this "well if Kaka is there! and Dom Dwyer and his fancy accent! and Schweinsteiger! And Michael Bradley (who has an assist all year). People will watch!" They won't.
Perhaps they will if the best MLS players are there and it's a really damn good game.
That might actually get fans of soccer worldwide to watch. I would consider myself one of those and I'll be missing this one.
It's shit.
Even if they were going for bigger names they still can't get it right statistically as
Romain Alessandrini's 8 goals and 7 assists would make a ton more sense than Dom Dwyer.
I really wish in general Major League Soccer could get more soccer about it's soccer.. Less concerned about stupid stuff no true fan of soccer really cares about.
Hejduk..
Getting Stuvered
Conscious self-note, if anyone has this happen to them this weekend.
— CREWTURE Est.2008 (@CrewtureFanzine) July 18, 2017
Make a clip of.
I believe 33 likes is my most on Twitter.
Perhaps I should just change my Twitter to MLS Nut Shots. 😅