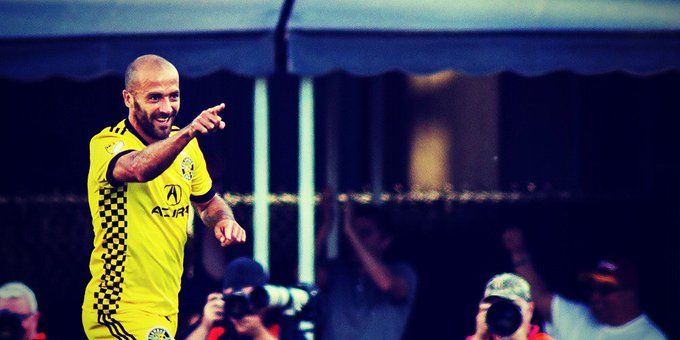 Gaven..
Crew SC Win
Pretty much what Crew SC needed.
Solid performance, solid attendance for a Wednesday, and performed well at home which helps with that in the future maybe I think?
Mensah and his fellow defenders had a vacation from mistakes for a game. Team achieved the rare Crew SC shutout.
No clue what the future holds on the backline completely but when the game started was personally like Mensah, Williams, and Jimenez... 😏 Ookay.
Naess get a game off for being good? 😅
Nevertheless, turned out about as well as it could.
And the big players (
Federico Higuain, Justin Meram, and Ola Kamara)
stepped up on the goalsheet.
Artur played 90 minutes. 👍 18 out of our 22 points this season have came when Artur has played 70 minutes or more.
Were 1-1-6 when he plays less than 70 for 4 points.
Not saying it's down to one guy.
Yet one guy, added to our other playmakers, may take us from last year to good.
Schelotto..
Junior Flores signs with Borussia Dortmund for another season
Link from yesterday: http://elmundo.sv/junior-flores-seguira-una-temporada-mas-con-el-dortmund/
"Junior" Flores will continue one season with Dortmund
Sports News
The Dortmund box also offered him an offer to play two more in the team at the end of his first year
Tuesday 30, May 2017 | 3:22 pm
El Salvadoran football has had good news this week regarding players cuscatlecos that militate abroad. First was the renovation, made officially last Saturday, of the legionary Denis Pineda with Santa Clara, team of the second division of Portugal. Now, the Salvadoran-American midfielder, Herbert "Junior" Flores, managed to sign a new contract with the German team of Borussia Dortmund.
As explained by Oscar Flores, father of the wheel, his son signed for a year with the German box along with an offer two years more, despite other offers that had presented MLS teams, including Columbus Crew. One of the reasons that led "Junior" to sign with Dortmund was the guarantee, which was stipulated in one of the clauses of the contract, to play with the first team in the Bundesliga.
It is worth mentioning that Flores has already expressed his interest in wearing the jersey of the national team of El Salvador and that his father has said that there have been attempts to meet Eduardo Lara, but that was not produced because both agendas have not matched and I hope to solve it soon.
Hejduk..
June 14th at Nippert
That's a lot of likes and retweets.
— FC Cincinnati (@fccincinnati) June 1, 2017
Two Wednesday's from now will face off against our Ohio USL opponents FC Cincinnati.
FCC won tonight 1-0 over Louisville City.
Here's their game winner.
— Mark Slaughter (@MarkVSlaughter) June 1, 2017
May be okay with Crew SC taking the Open Cup serious just one time. But, as long as we don't lose 5-0 I'll probably live.