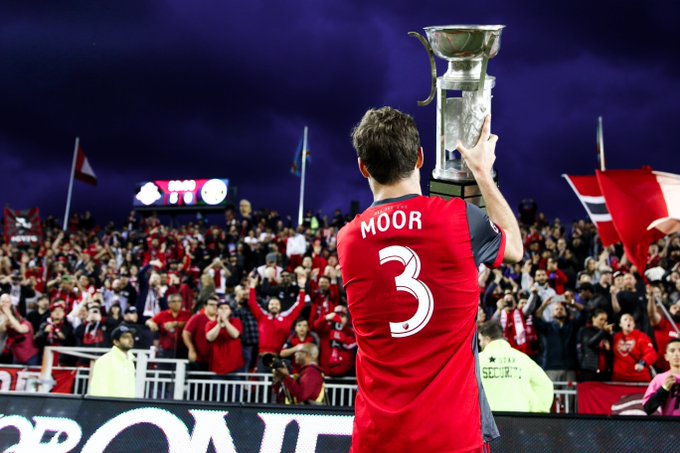 — Jason Foster (@JogaBonitoUSA) May 26, 2017
We've all had bad days at the office in life. I've had my share.
I definitely understand a bad day, trust me; as I'm sure a lot of us do.
They just appear to becoming a team fad again akin to the 2016 season and I don't think there's much more of that that Crew fans want to take.
I like most Crew fans understand perspective.
6-7-1 is okay considering last year. But, do we want to be okay? And is it okay considering we started the year at 4-2-1 and in first place?
And is it okay considering two years prior we were in MLS Cup in Columbus? Especially considering that core has improved overall and we have improved players surrounding that core?
Currently we have an even better Meram, a what I would consider the best form from and a better Higuain, a better Kamara at least in mentality/upside/age and I believe in overall skill (Club Tijuana or anyone isn't offering $1.5 for Kei), a not so better Finlay but I think still has it in him and isn't all on him (fan reactions are included in I think the messing with his head), same Trapp, same coach?
Add to that a better goalkeeper.
Needed a few days before I discussed this in an article. But, Columbus Crew must take some real looks at oneself and not just lip service it, "yeah taking a good look here" blah whatever no matter what else they do or do not do.
Just want more consistency in results and in lineup, picking our best lineup week in and week out. MORE FOCUS. Improved and intelligent "don't shoot ourselves in foot" play regardless of end result.
There is a ton of shooting oneself going on not just on the field but in coaching decisions lately.
Let the other team beat us. Lately were beating ourselves with everything and anything in anyway we can.
WHATEVER they TRULY think is the best option fine; if it continues to be Berhalter fine. Just do and do it not okay. DO WHAT YOU THINK IS BEST FOR CREW SC, NOT BEST FOR EVERYONE'S FEELINGS.
And considering consistency of lineup, sure we might have more depth than previous years. GREAT.
I actually think Berhalter makes good decisions overall in acquisitions and might be a great sporting director if MLS teams just have that some day.
But that doesn't mean we have to start nearly everyone in our 18 every 3 games.
And do 5 different formations in 5 games.
Pick a 11, pick a formation.
Seriously we have tried several. Which lineup, formation had the best record and stats? And stick with that.
Instead of going bi-polar on it every week.
In addition, if you say something back it up on FIELD. The week prior they were saying fans are incorrect for their sensationalist reactions after New England. Well when you have a great goal like that take advantage of it and win!
Berhalter said about the New England loss:
"I was able to see it first-hand after this last Cleveland Cavaliers game. All of a sudden, LeBron's a different player (to the media)," Berhalter said. "It's funny, because again it's sensationalism, it's not reality."
It's reality that you should do better after the goal of your season on the road. It's reality you shouldn't lose 5-0 to any team, but especially against an eastern conference rival(?) allowing 2 goals when they only have 10 men! If anything you should probably win 5-0 without two of their best players for 90.
Try instead for once to say "that was my bad." "This was our bad."
You may get more respect that way. We have rather intelligent fans overall.
And before that the Crew complained about fans not showing up for a Wednesday game. What the hell do you expect after your extravagance last year along with it being a Wednesday and well several other things (parking, marketing
which I know you think is brillant with the self-congratulations
but yeah)...
If you want not so extreme soccer fans or Euro fans to take an interest for once (we are 4th in US cities watching worldwide, Euro soccer) try buying one star maybe once and perhaps not a DP defender. Front office talking to you there.
They said prior (Precourt included) well were only one win behind the first place team! Perspective. Well, now it's two and that first place team is 10 points ahead of us (beginning a Bayern Munich like lead) in May.
It's ludicrous to be like "hey were not that bad" and then follow that up with this.
Really crafted that one. 😅
Personally, I'm leaning towards try something else as how many seasons do you have to correct something with the same guys you almost got there with and to be this off the plot OR JUST OK two years later?
Further, I'm not enraptured with our style at times (I'm alone at that) and think we would be more dangerous a bit more direct and quick.
It looks pretty. But we pass it around midfield aimlessly until we lose the ball and the other side scores.
I prefer this.
But, I don't own the team. I will support whatever Crew SC is here.
I had, just like anyone, a few reactions to a 5-0 loss to TORONTO FC (who I still don't like

whether rivals or not,

who gives a shit what they are really

) still doesn't feel great.
Was one of about 100 Crew fans that had about 200 of their fans put us through a melee to our bus in 09' and dealt with their self-love parade through those years.
Police escort to the hotel.
But, whatever you decide Crew SC, I like most will support. We just want the right decisions to be made or some accountability perhaps when something was wrong.
Were fans and not going to be like hey guys that's a-ok!!! Because it really wasn't.
Regardless of whether everyone has to stay and everything is fine because were really nice soccer folks here at Columbus Crew SC which is pretty boring usually fyi.
If this is the case:
#CrewSC

now has nine straight games against teams currently situated below the line. If there's a chance to capitalize, that's the one.

— Andrew Erickson (@AEricksonCD) May 27, 2017
Please just take advantage of Erickson's above tweet. If you do, don't have to change anything if it even matters what we think.