Ben Olsen could be our coach.
For the rest of time. His record since he became DC United's coach in 2010.
2010 3-8-1
2011 9-13-12
2012 17-10-7
2013 3-24-7
2014 17-9-8
2015 15-13-6
2016 11-10-13
2017 0-2-1
75 wins, 89 losses, 55 ties
Berhalter has 38 wins, 36 losses, 31 ties and a MLS Cup appearance.
In the last 7 years, DC United won the US Open Cup once.
A trophy that no one in MLS truly gives more than a
about.
I guess we can thank whichever divine benefactor that Berhalter isn't a former Crew player if he ever has a 24 loss season.
DC's broadcast crew
Was terrible. I had a legitimate headache at the end.
— CREWTURE Est.2008 (@CrewtureFanzine) March 19, 2017
Hint:
You don't have to talk about everything in your mind.
Silence is okay sometimes.
The atmosphere.
Was abhorred. Don't know if it was because they were playing us and were boring or something..
But, anyone Crew SC bemoaning the opening day atmosphere should watch that game again.
I think Capo stuff will be a positive, think we should give it 100% percent.
If it works will be the best, louder than anyone I think.
If it doesn't work out how we desire, we stay how we are.
But, I couldn't even pick out a
DC United
chant.
Top defender could forget what defending is
Thanks Steve Birnbaum for putting yourself in two bad positions and putting it in the referees hands.
— CREWTURE Est.2008 (@CrewtureFanzine) March 19, 2017
"First one is probably a good call, the second one is a terrible call," said Olsen after the game. "I'm pretty sure on both of those. I think referees should be pretty sure on calling PKs."
Link
.
I think Olsen's correct there.
The first is definitely a PK.
As without Birnbaum's contact from behind, which wasn't all ball, Kamara is going to goal and slotting that home.
Good on Higuain as that was a hell of a pass.
The 2nd was sort of weak. But, once again without any contact by Birnbaum, I think Kamara is slotting another home.
You shouldn't put it in the referee's hands. And likely was a push as wouldn't say any Crew fan would consider Ola much of the fall down for no reason guy.
But, with our finishing. Thanks Steve!
Overall
What a difference a game makes. Not over the moon. But, better.
I'll always take a 2-0 win at DC United.
Were 1-1-1 with two road games out of the three. With 7 out of our starting 11 not involved at the start of last year. Going to take some time to formulate.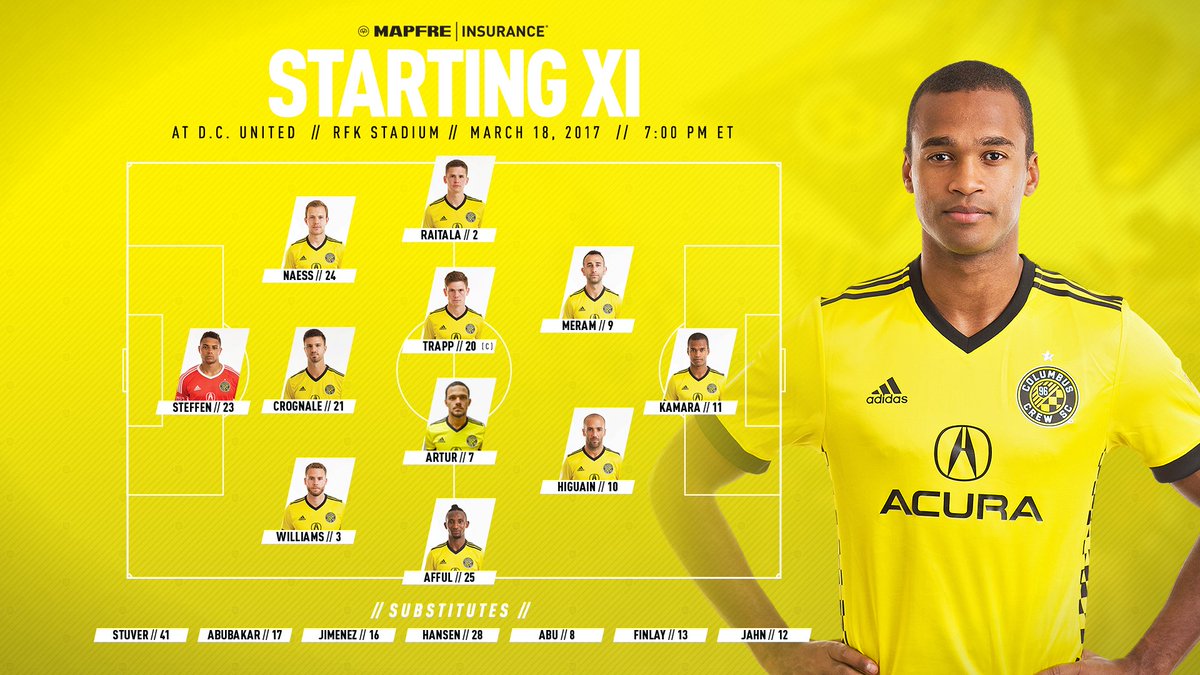 Think this formation worked well.
Thought Crognale and Williams came in and did a solid job.
Steffen had a good performance, at least two very solid saves.
Which was nice, needed with his start last week.
Although doesn't seem like he was very worried. Appreciate that demeanor.
Higuain had a much, much better game.