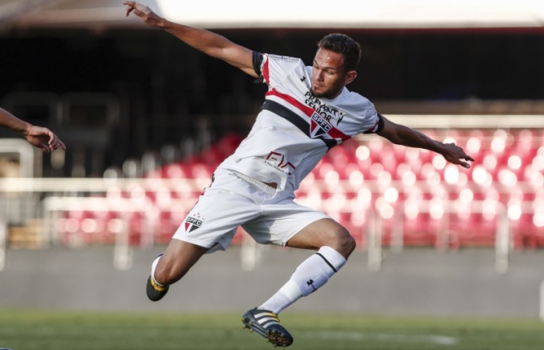 Gaven, Schelotto, Hejduk's: Are the top Crew contemplations of the day. If you're new to the Crew... Video example of what is a Gaven, Schelotto, Hejduk .

Gaven...
Crew sign a Brazilian finally. Through a loan with prospect to buy outright if he impresses.

One Jose Artur de Lima Junior.

Negotiations began when the United States team arrived in Brazil on January 23rd to hold preseason in Cotia. Columbus faced SPFC in training, SPFC won 7-0 and information on Artur was collected. A "considerable value" will be gained by São Paulo for the loan, in addition to full payment of players wages by Columbus. Artur is linked with SPFC until July 2020.

SPFC owns 70% of the economic rights of Artur and in the negotiation a purchase price was set by SPFC for Columbus to exercise by next December. The percentage established and the figures were not revealed.. But for example, if the Americans buy 50% of the rights, the tricolor would still remain with 50%.

Promoted to the professional cast of São Paulo in May last year by Edgardo Bauza, Artur has four games in the main team - three as a starter. With no space, he returned to the Under-20 team and won the Brazilian Cup and the Paulista Championship of the category. Before, he had already won the 2016 Libertadores, besides the Copa do Brasil, the Copa RS and the Gold Cup of 2015.

Link.

Here's his highlight tape with Sao Paulo:

Schelotto...
So what does this all mean?
It means luckily Crew SC won't have to pay for an extra flight to Columbus. 😂🖒 That's how you do it.
But, oddly now they have four central defensive midfielders (Trapp, Tchani, Abu, and Artur) to go with their five center backs (Naess, Mensah, Williams, Crognale, Abubakar).
It also means two internationals too many.. With Raitala, Mensah, Abu, Kamara, Abubakar, Martinez, Saravia, Naess, Afful, and Artur.
One is getting a green card and one is going. Or two are going before the season or getting green cards.
What's your expectation on either of those fronts?
We have to be at 8 internationals, we have 10. If this is happening.
Hejduk...
Next round of preseason has to be better.
But, two weeks in is just a training exercise.
Well, it was for SPFC... That defense in the below play. 😛
February 8, 2017
But, hey if we gained a Brazilian player and got some bonding in all good. Columbus still has another day to finish things up in Brazil tomorrow.
Then on to the next one. Has to be a step up in Carolina though by a bit of a margin and I'm confident it will be.
Feb. 18 Crew SC vs. Atlanta United (Carolina Challenge Cup)
Feb. 22 Crew SC vs. Charleston Battery (Carolina Challenge Cup)
Feb. 25 Crew SC vs. Seattle Sounders FC (Carolina Challenge Cup)