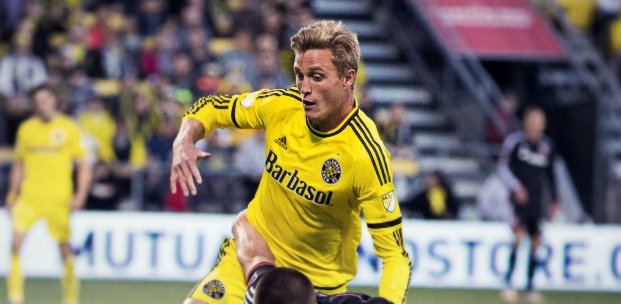 Gaven, Schelotto, Hejduk's: Are the top Crew contemplations of the day. If you're new to the Crew... Video example of what is a Gaven, Schelotto, Hejduk .

Gaven...
Former Crew player Aaron Schoenfeld moves to Maccabi Tel Aviv for $800,000 Euro

Link here
. Not too bad for the man with 51 previous Crew appearances. As he transfers to Maccabi Tel Aviv, one of the most prestigious clubs in the Isreali Premier League.
Maccabi has won the league the most. Champions 22 times.
The move takes Schoenfeld from the 9th place team last year (Hapoel) to the 2nd in the Isreali Premier League.
Who are currently 2nd again this year.
Congrats to him.
Schelotto...
Speaking of Crew Jewish
Ran across this article yesterday on the captain of the best hair starting XI for Columbus.... Former Columbus Crew player Sebastian Rozental,
link here
.
He had 20 appearances and 3 Crew goals, after transferring from the Concacaf Champions League legends,
the Puerto Rico Islanders. The above article talks about his whole career
with it's 94 goals in 279 appearances.
The videos work in
this link
.
A bit profoundly enough Sebastian went straight to the Isreali Premier League as well after the Columbus Crew..
And he ended up at the
same team
as Aaron Schoenfeld eventually did prior to Hapoel Tel Aviv. Maccabi Netanya.
So, if you ever come across the trivia question of what teams in Europe have had two Crew players play for them: Maccabi Netanya (Rozental, Schoenfeld), GIF Sundsvall (
Steindórsson, Gall), Nottingham Forest (John, Woan), and Derby County (John, Harkes) is your answer..
If it's two Crew players at the same time, GIF Sundsvall, currently.
You could perhaps throw Stabaek in the mix for two in their history with Ola Kamara and Cole Grossman. Although Ola was with them about 8 to 10 years prior to Columbus even being a thought in his mind.
On a more interesting topic, Rozental may have been a better player off the field:
As four months ago Pamela Diaz who is a Chilean model, media celebrity and in show business revealed that she had a romance with Sebastián Rozental.
Uh not so shabby there Sebas.
Hejduk...
Cole Grossman is available again.
He may or may not be
Jewish lol
. Guess my theme today...
Either/or, him and Schoenfeld are probably the two former Crew players with the best European career today, currently (not like against McBride or Stern John 😉). Which is funny since neither had much of a career in Columbus.
Although, I liked Grossman, thought he had talent, and was scuttled along far too early by Warzycha.
As in my opinion, his 12 appearances were not bad at all.
His one Crew goal starts here at 2:07:
And a hell of one. Him and Duka could do that again in 2017 please. 😏
Grossman has made 51 appearances for Stabaek. Which is many more than another Crew player, Ola, had with them early on in his career.
I believe it was just a mutual decision. To not renew his contract there, perhaps wanting to return to America.
You would think he checks off a lot of boxes, especially for Berhalter.
1.) Played in Sweden quite often over last 3 years, Scandinavia is Berhalter's go to.
2.) Former Crew.. Berhalter has tapped that keg twice with Duka and Williams.
3.) Most importantly, is an American that has played in Scandinavia! Should really be of interest to Berhalter being that he definitely has no more international spots after Abu.
The weird thing is Cole has been without a team for a month and there hasn't been a word anywhere.