Gaven, Schelotto, Hejduk's: Are the top Crew contemplations of the day. If you're new to the Crew... Video example of what is a Gaven, Schelotto, Hejduk .

Gaven...
Wil Trapp shakes off US early return, plays today in preseason friendly vs. Sao Paulo


— Andrew Erickson (@AEricksonCD) January 30, 2017
Schelotto...
Afful plays 90 minutes for Ghana in AFCON Quarterfinal today vs. Congo. Ghana wins 2-1
Crew SC's Jonathan Mensah and Afful celebrate afterwards:
— Jonathan Mensah (@Jomens25) January 29, 2017
Question does Mensah make these inspirational tank tops? 😊 Look him up on Instagram someday.
Congrats to both and good luck against Cameroon in the semifinals.
Hejduk...
Crew SC gets welcomed back to soccer, 7-0 pounding against Sao Paulo FC this morning
Here's a description of the game from a few Brazilian sources,
Link 1
and
Link 2
.. Wasn't any mention anywhere of Crew game rosters. Just what SPFC did and who scored for them.
Later in the day, SPFC were kind 😆 enough to post highlights.
Not concerned a week in other than our score is similar to how Boca Raton FC of the National Premier Soccer League did against Sao Paulo in the Florida Cup the week prior.
Boca Raton lost 9-2
.
And well, at least they scored.
Dope logo
Personally worked for a team in the PDL before.
And even though there is no distinction in the 4th division and on by US Soccer, NPSL
where Boca plays
is somewhere below PDL.
So, on one hand scary we couldn't do any better; as I've seen PDL level a far bit too close.
On the other hand, Abu got to camp on Day 2 or Day 3; Cristian Martinez and Abuchi were signed on Day 3; The starting RB and CB are in Africa; and about 10 guys are new. So, if you expected Barcelona a week in. God bless you.
Also, well Sao Paulo play in Brazil
Brazil are usually better than the US at soccer 😏.
For example, just look at SPFC transfer news this week.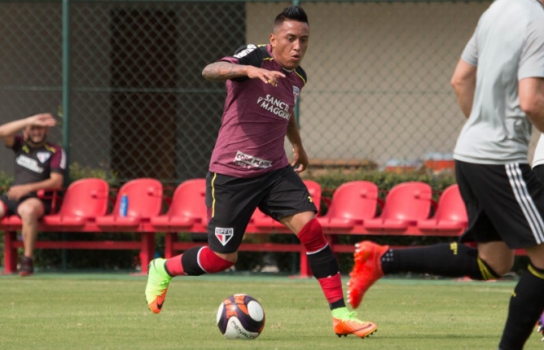 SPFC were offered $5 million for Cueva who played today (above) by Orlando City
which is in no way shabby by MLS standards
and that was rejected.
— Diario El Bocón (@elbocononline) January 28, 2017
Juventus offered $5 million today for another.
— O Guia do Esporte (@oguiadoesporte) January 30, 2017
I think we got half that once for Giancarlo... So, I was hopeful maybe for a 3-1, 4-0 loss.
And well to be fair, we lost 4-0 and 3-0 in the two games.
Or 7-0 in total, as some Brazilians figure two games with separate players should be paired into one score.
😰
Berhalter didn't look too concerned after. Nor should he be a week in. Preseason is all getting fit to play. I would've been happier with 3-0, 3-1
but it's training.
Here's a link to a
Sao Paulo gallery
from the game, and the Crew's pictures:
— Columbus Crew SC (@ColumbusCrewSC) January 29, 2017
Also, came across this story on Brazil's ESPN as well last night, which is the best info vid I've seen from training camp, actually is really good.
Brazil ESPN knows how to do soccer videos. Imagine that...