Crew fans may want to focus on something other than last night. Luckily there's something else.
Meram against Australia Thursday.

Justin Meram played the full 90 up top, alone against Australia in Perth as Iraq were downed 2-0. After a late second half assist and then goal by Tomi Juric.
Meram has 19 caps for the Lions of Mesopotamia; as his squad try to battle their way into Russia 2018 starting this week with two qualifiers. Hopefully they have a
bit more possession
against Saudi Arabia on Tuesday because that was a tough one, 28% percent vs. Australia.
They still have time and Australia away is perhaps one of the tougher openers.
Wonder though what Iraq's manager Radhi Shenaishil sees in Meram to put him up top alone? Perhaps could have a bit more possession with the ball at his feet in midfield. If it goes well though, maybe something Berhalter considers in future?
Probably not considering the possibly failed attempt at two forwards up top last night.
But, overall Iraq has had their moments and looked decent in Brazil's Olympic group with 3 draws. Their biggest players are Ali Adnan of Udinese and Ahmed Yasin of AIK. Meram perhaps plays for the fifth biggest club on the team and his road to Iraq even makes Australian news, how it
began for Meram
.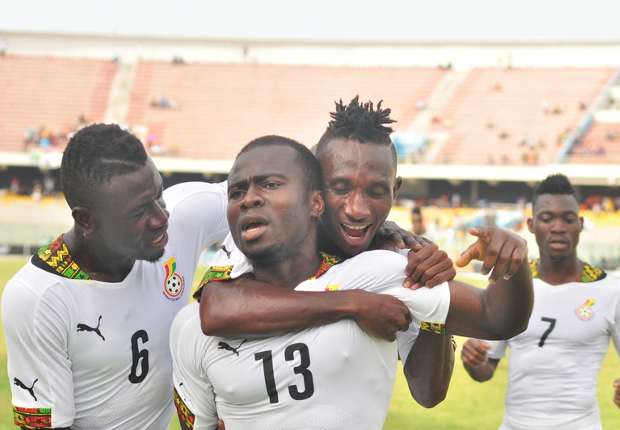 Afful having something to celebrate
Harrison Afful
received his 63rd cap in a 1-1 draw yesterday against Rwanda.
With the tie, Ghana wins African Cup of Nations qualifying Group H.
Ghana were leading until Rwanda scored with seven minutes remaining. Ghana still won their group nevertheless with Rwanda in second.
With the Black Stars already securing their ticket to the Africa Cup of Nations, that will be staged in Gabon early next year, the game was more or less an academic exercise.
And apparently the fans reacted as such,
— Donsummer1 (@Crucialsummer1) September 3, 2016
Nigeria was playing Tanzania. So had more to do with a Ghana fan protest of their football association president.
Something more surprising, Afful is now coached at Ghana by Avram Grant.
The next opponent for Afful will be a bit more interesting, as Ghana plays a friendly against Russia in Moscow on Tuesday.
Rodrigo Saravia
Played full 90 minutes for Guatemala in a crucial game, a 2-2 tie in Port Au Spain. Guatemala with the 2-2 tie
are somewhat still alive
. They need the USA to lose at a home against T&T on Tuesday and they need to win 12-0 against St. Vincent on Tuesday which isn't umm impossible.
If the US needed 12, instead of 6 at St. Vincent Friday they would've got it.
The chance is very miniscule, but perhaps surprising Saravia as a Crew rookie is a stalwart with Guatemala already. Bodes well for his future.
Tchani against Gambia
Tony Tchani
was with Cameroon, but from what I've seen did not play in a 2-0 win against Gambia.
Cameroon won their Africa Cup of Nations Group as well..