Why Crew should play Naess, Steffen on Saturday
Columbus Crew battles Put Together a Fake Club in a Big City FC on Saturday.
Respect, works great in MLS.
What I want, pushing for on Saturday is the Crew throwing Zack Steffen and Nicolai Naess in from the kickoff.
Why? I think it's evident.
Fans need a boost.
Team needs any sort of boost/different attitude.
Berhalter, Precourt and Co. even need a boost/
prove they did positive things this transfer window.
Not that it concretely will prove anything. But, might get us farther from that ledge.
More importantly. Would be unexpected.
You want me to do something unexpected? Question, sir.
How do you feel about scissor kicks?

It would be okay for the unexpected once in a while.
Other than 19th place the year after being in the championship game.

But, "how dare you Crewfighter? Must be 100 percent fit. Or game fit! Whatever that is!" You can't run a marathon to get ready for a marathon. Just play them, take a risk. Any risk.

Just once.
Won't melt.
Sure. Were only (I guess only) 7 points out of a playoff spot with a game in hand against one club, two games in hand against another. But, we can't fumble a hundred more times.
Yes. We somehow don't have to make up 20 points, somehow. But, it won't last even in the MLS Eastern Conference.
We need to do something about it now. TODAY, Saturday. Not next week that's over.
Well, what are two, possibly less in shape players going to do about it?
I'm a big believer in mindset.
So, I believe having at least two starters not 100% used to losing or tying this year can have a positive attribute.
If its just a 10% affect on the whole lineup. It's something.
Sometimes 10% more is all it takes.
Doesn't Have To Be Permanent
Well, hopefully Naess is with our current center back lineup.
But, I get if the Crew are too worried to hurt Steve Clark's feelings to replace him for a few years.
I can actually see that, lovely, but that would be fine.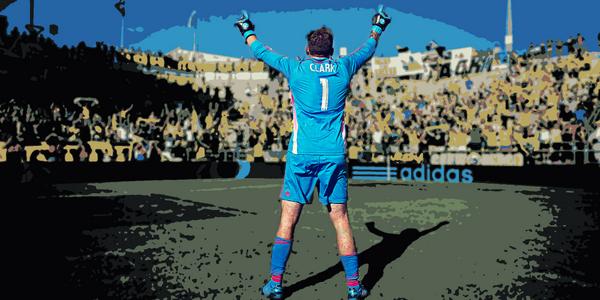 "I'm the only Crew player to enjoy every minute of the joy this season on the field has had to bring! Yes!"
So, probably wouldn't complain too much about a day off.
Give him a break, see how Steffen acts in an odd situation, put some players on the field for a game with less of a "were f'ed attitude."
What's the worst that can happen we lose or tie from it? Oh well. At least were trying something. Roll the dice a little and we might win.
That Gets To What I'm Sick of in 2016.
Put the blinders on everyone, act like nothing is wrong, don't change anything eventually it will lead to wins.
That's why new faces means another game story, focus. Less of a focus on how we will screw this up this week.
Sure will still be one, but less of one. Got to change something or nothing does.
"I look at you, like most Crew fans look at their tv screens during Crew footie games.
Youuuu Figlio di Troia."