I mentioned some players already from Poland that Columbus should be after; being a Polish fan I thought there is opportunity there because some Polish players are famously overlooked.

It ended up being a kiss of death for Jakub Blaszycykowski as he missed his penalty against Portugal. But, the next day my mention ended up being brilliant for Robson-Kanu.


You're possibly Euro transfer of today. Robson-Kanu. 27, released by Reading, and good news he's usually a winger :)

pic.twitter.com/ziI06NZ5WW

— Crewfighter (@CrewtureFanzine) July 1, 2016
I mentioned him prior to the most brilliant goal in this Euro tournament. So, go me lol.. Deserve so much credit.
There's players for Columbus to look at, and perhaps for MLS teams to look at in general,
from the Copa America
tournament. But, considering the improvement of little teams in Euro 2016 like Iceland, Wales, Poland, and Hungary.. There is a player or two that could be signed from the European tournament (really, if you have a little creativity and belief).
So, let's have some creativity and belief.
To be mentioned. 1.) You have to be in your late 20's, early 30's. Or be too young to be expected to start for a top club now. 2.) Can not be playing for France, Germany, England, Belgium, and etc. Because you're already on the hit list of every top team in Europe. 3.) Can not be playing in the best place; because then you may be open to quite a bit of other opportunities stateside and elsewhere.
So, let's find some players.
Balázs Dzsudzsák
Country: Hungary. Played all 360 minutes in four games.
Right age: 29
Semi-unspectacular club: Plays for Bursaspor, 11th in Turkish Super Lig sparingly. 23 appearances since 2015.
Position: Left winger, forward.
Play: Is a lively winger, with good ball skills, that would be a handful for most MLS defenders.
Another great video:
http://www.uefa.com/uefaeuro-finals/video/eurostars/videoid=2343071.html
Nearly everyone on Hungary is an open option in MLS. Defensively Roland Juhasz, above, at 32 plays for Hungarian side Videoton and has a hell of a lot of experience in the English Premier League. Tamas Kadar (at the healthy age of 26)
pictured below
plays for Lech Poznan in Poland and had a short stint at Newcastle United. Except for a few players in the Bundesliga, nearly the whole Hungarian lineup is either in the Hungarian or Polish league, every one is possibly MLS available, especially after their 4-0 Round 2 loss to Belgium.
Even the 37 year old former West Brom attacking midfielder Zoltan Gera might be an interesting option for some MLS teams if you want to get insanely wild and creative.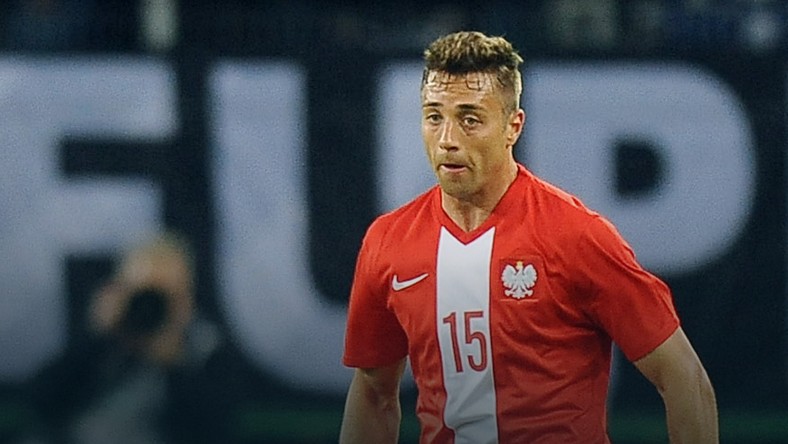 Thiago Cionek
Country: Poland. Played 1 game, 90 minutes against Ukraine.
Right age: 30
Semi-unspectacular club: Plays for Serie A bottom feeders Palermo. Has played well enough, but wouldn't say he's a full time starter.
Position: Right back
Play: A lively right back that can get up and get into the attack unlike most Polish defenders; since ala he's of Polish heritage but was born in Brazil. Poland's coach Adam Nawalka hasn't made terrible decisions but should put Cionek as the starter at right back on the run to World Cup 2018 because he can possess on that side, like Kapustka can on the left side from left wing.
Looking at how drab they were against Portugal second half could be desperately needed. Between him and 28 year old central defender Michal Pazdan might be some real options defensively, where Columbus may need the most work.
If you're looking up top for help behind or with Ola Kamara. There is some young talent in 21 year old Polish leaguer Mariusz Stepinski. He may be better up top with Lewandowski, and then Milik eventually (then Milik has been with Lewandowski).
Karol Linetty is another 21 year old Polish leaguer who I see stepping up, up top as well.
Euro 2016 was a step in the right direction. But, for Poland introducing players like Stepinski, Zielinski (who has
had interest from Liverpool and Napoli
), and Linetty behind the introduction of Kapustka is much needed TODAY. Maybe even a couple younger Poles may still be available for MLS. Could see scoring somewhere else other than Poland as an opportunity for Stepinski's career for a year or two if he isn't leaving Poland already.
Ragnar Sigurðsson
Country: Iceland. Has played all four games, 360 minutes.
Right age: 30
Semi-unspectacular club: Has played for Krasnodar in Russian Premier League since 2014, maybe time for another move, if he doesn't already have better (lol look below).
A lot of Iceland's defense plays in the Swedish league or somewhere else not very spectacular so if Ragnar is unavailable (and looking below I'm sure a few are knocking now), I'm sure there's one in that roster. So, if you wanted to look defensively. Iceland may be it.
Bogdan Stancu
Country: Romania. 3 matches, 264 minutes.
Right age: 29
Semi-unspectacular club: Plays for Turkish Super Lig club (umm.. that I never heard of) Gençlerbirliği S.K.
Is the type of player in his late 20's, playing nowhere well known that Columbus should go after up top wherever available from Euro 2016 if they're serious this Summer; and especially serious about a Kei Kamara replacement.
Is there any other options you would go after personally from Euro 2016 or from Copa America? Both tournaments have been a real eye opener. Has anyone opened your eyes, please feel free to start that conversation on Crewture Fanzine.
Is there any options you would go after personally from Euro 2016 or from Copa America for the

@ColumbusCrewSC

?

— Crewfighter (@CrewtureFanzine) July 2, 2016