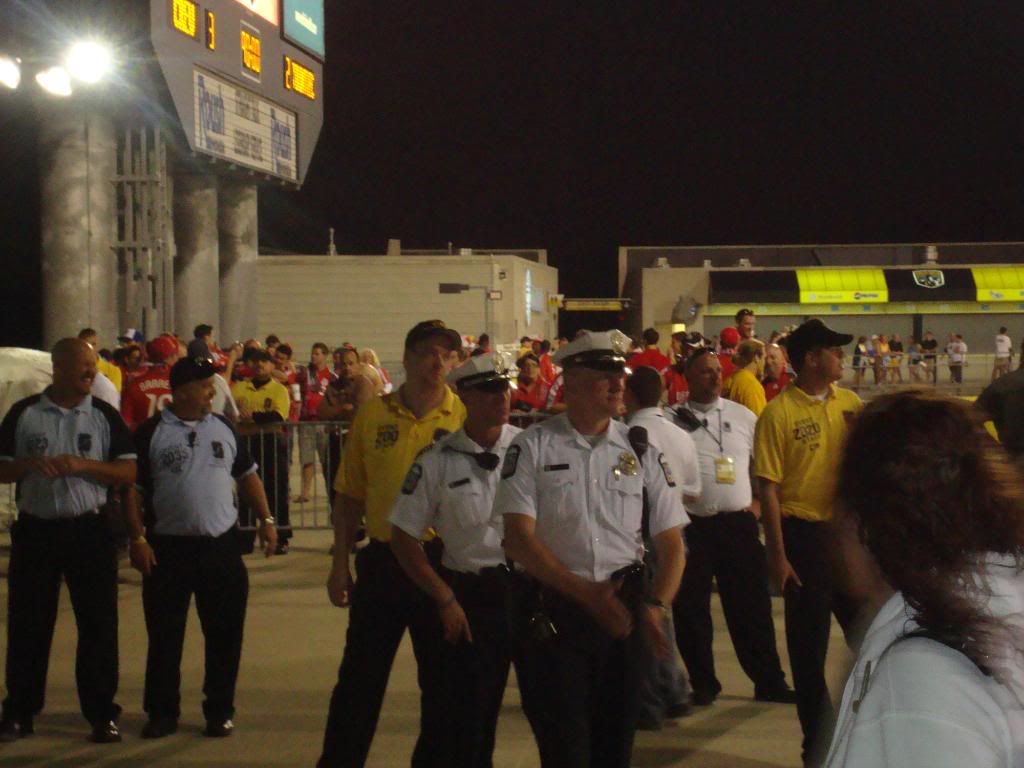 Security Beef Up: From 2,500 to 1,500 to 40 away supporters(pictured above in July's Trillum Cup Decider), the question is whether TFC fans are scared or will actually show up next year.

Late last March 1,500 Toronto FC fans saddled up for another roadtrip to Columbus. During that game, some of the Toronto contingent threw newspapers, smoke bombs, and trash while busting seats and throwing railings. Then after the game, some of Toronto's fans stuck around and tried to incite Crew fans. This inciting led to near punch ups, before Columbus Police rolled in and did a full scale macing of both sets of fans and arrested some TFC fans outside the gates of the stadium.

In usual fashion of our rivals(both Chicago and Toronto) the TFC fans felt hard done by their treatment and decided to boycott (in this case, their return to Columbus in July). The July game just happened to be the decider for the Trillum Cup and was one of the best games of the year, far more entertaining than the March opener. Nevertheless, Toronto FC only had about 40 or so fans show up. Thus, over the last three games between Columbus and Toronto at Columbus the away contigent has dwindled from 2,500 to 1,500 to 40.

The much larger contigent of about 3,000 in the Nordecke carried the atmosophere and buoyed their team to won hell of a victory, a 3-2 win off of a goal in the dying seconds by Garey, it was a lovely way to beat a rival.

According to Mitchell and Sportsnet.CA the saga continues this year with the Crew's home opener being scheduled against Toronto for the third consecutive year. It appears despite all of the troubles and run-ins with fans, that MLS still wants this rivalry even though it doesn't usually end up being the best of press.

Anyways, from 1,500 to 40. The question now is how many will show up this next year? Do TFC fans really expect better treatment next year when they act like fools in our stadium? When will Toronto just worry about the game and stop boycotting based on their feelings (their fans definitely could have been a help in the Trillum Cup decider if they were not all scared)? All these questions remain to be answered.