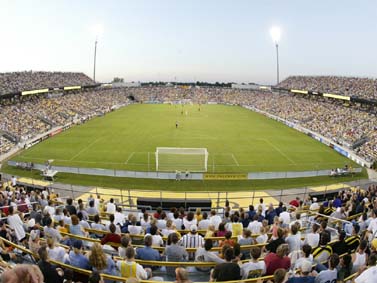 From ticketmaster:
"Happy 10th Anniversary!

The Crew will be turning back the clock to 1999 on May 9, in celebration of Crew Stadium's 10th anniversary. The historic venue opened on May 15, 1999, becoming the first major-league stadium built specifically for soccer, and as part of the May 9 celebration, tickets, parking and select concessions items are being offered at 1999 prices. In addition to great ticket prices, parking will cost just $5, hot dogs only $2, a 32-oz. fountain drink in souvenir cup $3 and a limited edition commemorative T-shirt will be available for $10."

No word yet if beer prices are included. But, I'm praying so. Should lead to another big crowd.