The recent Crew transfer talk has been centered on one more big splash with Palermo, but possibly the Crew will make some smaller ripples in the market to add more depth to their squad. Here are some possible moves for the Crew to add depth much needed for CONCACAF and the Open Cup: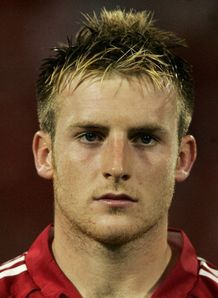 Chris Birchall- 24 year old- Trinidad & Tobago International:
Chris Birchall plays holding midfielder and is under contract with Championship side Coventry City. Birchall was on his second loan spell, with League 1 side Carlisle United, and could have stayed on with the Cumbrians permanently. Instead, according to BBC he took a better offer from MLS that Carlisle could not compete with(don't hear that often), however no one is quite sure which team Birchall will be signing on with.

Would Birchall and the Crew make a good match? The Crew is looking for a new partner in crime for Brian Carroll, one who can take over the defensive responsibilities in the Crew midfield since Brad Evans went grunge. Scotman Adam Moffat is slated to return to that position, a position that was his until a season ending knee injury led to Evans takeover. However, the question remains whether Moffat will be able to show the promise he showed in early 2008 or if he will be slowed a step or two because of the injury. In any case, it would not hurt to have some young insurance and someone else for the longer season, thanks to the CONCACAF Champions League and hopefully a longer stay in the Open Cup. Possibly Moffat and Birchall could split the duties in front and beside Carroll.

My thoughts? Birchall is young and moldable. From what I saw of him in about 3 matches against the U.S. National team he looks like someone who would fit nicely into the midfield. Birchall would add some high quality depth and cover, also he would challenge for that spot in front of Carroll. I'm a big fan of Moffat and hope he is the same, even with that said we will need 20 solid players on the roster either way.

Finest Moment: A cracking goal from far out against Bahrain in the World Cup Qualification Playoff that basically led to T&T's World Cup birth.




Bryan Namoff- 29 years old- Defender for DC United:
Namoff as you're probably well aware plays for rivals DC United, however you're probably not well aware that the defensive stalwart is out of contract. Namoff has been out of contract since the end of the season and DC United is hoping to get a deal done soon. But, it's not really a good sign that the Crew signed the highly tauted Marshall quicker than DC United has been able to sign their Mr. Reliable Namoff. DC United fans are worried that Namoff could be pulling a Perkins and working on his Norwegian, at 29 this may be his last chance. But, also maybe playing for the Crew would entice Namoff because DC United has a long while to go before they are challenging for championships again as well as being involved in international play.

Namoff has played just about every position on the backline of DC United and also has played some defensive midfield. Namoff is an experienced professional with 152 caps with DC United. He is also very well acquianted with ex-DC United Crew player Brian Carroll. A Brian Carroll who didn't receive the ammount of respect he deserved from DC United until becoming downright vital in the Crew's 2008 season.

One of the Crew's main concerns is defensive depth. When Padula was gone for a substantial portion of the season the Crew fluttered and didn't regain it's hold on first place until Padula's return. Also Danny O'Rourke struggled for the first half of the season before playing up to the rest of the defense's level. O'Rourke has solidified his spot but a return to his early form or a Padula injury and the Crew is in deep trouble defensively. Namoff could downright challenge for a central defender spot alongside Marshall and with injuries in the defense he could fill in almost anywhere and receive just as many games as the starters. He could basically be the replacement for Hejduk, Marshall, O'Rourke, or Carroll if any of them go down for hopefully a slight injury. And, he could challenge O'Rourke for his spot as well.

O'Rourke will probably rise to any challenge. But, either way with CONCACAF we are going to need the depth. Having only Iro, Miglioranzi, Ezra Hendrickson, and Jed Zayner as the cover is just not going to cut it at all.



Eric Brunner- 22 years old- Defender for Miami FC:
The most obvious and least expensive trade for the Columbus Crew for defensive depth would be to give the New York Red Bulls all or some of the Crew's 2009 draft picks for the rights to Eric Brunner. Brunner is a former Ohio State player and local lad from Dublin, Ohio who was picked by the New York Red Bulls in the second round of the 2008 draft. Brunner however decided not to sign on with the Red Bulls on a developmental contract because $16,000 doesn't take you too far in New York City(who would of thought? Apparently not MLS).

Brunner instead sat out for the first few months of the season and then joined up with Miami FC(who pays more) of the USL 1 for the second half of the season. Brunner played 13 games for Miami FC and under all accounts did pretty well for the USL side. Brunner has also trained with the Crew on various occasions since and would likely enjoy coming back home to play for his hometown side, that just happens to be Champions of MLS. This would be a good depth move.

If Brunner is worth the roster spot then the Crew should offer Brunner a contract for $30,000-$35,000 dollars for the first year with improvements if he pans out for the second. $30,000 with mom and dad's couch to pass out on wouldn't be too shabby. Sure beats $16,000 in New York City with no accomodations or connections. Also, the Crew is unlikely without a first round pick to receive anyone of worth from their 2009 draft picks.