Dunseth (on right) former Crew, Major League Soccer player now broadcaster with Fox Soccer Channel.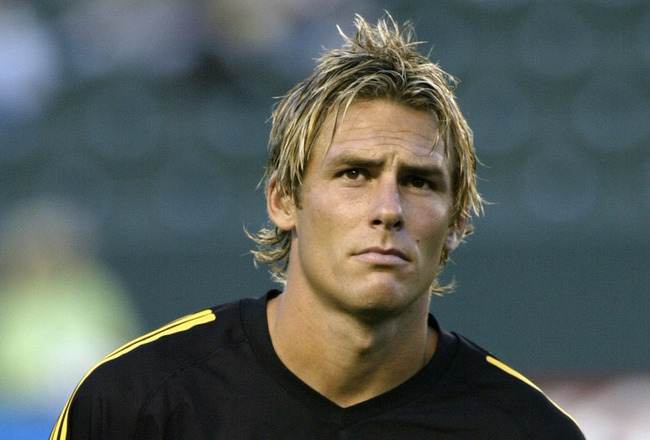 In playing days with Columbus Crew
From 4/21/2008:
1.) What are your thoughts on the Crew so far this season and the 3-1 record? What are your thoughts on the road win in DC? What were your thoughts on the team in the Crew-Chivas game you announced for FSN(great game btw)?
"I've been impressed with Schelotto obviously with his ability to find spaces in front of opposing back lines, holding the ball long enough to allow his teammates to get into the attack. Against Chivas and DC they were able to overload the midfield with numbers, pick up turnovers in the middle third and then spread the field quickly between Rogers and Gaven. Moffat and Carroll have been excellent together attacking and defending as a unit."
2.) Who in your opinion is the player to have a real breakout year for the Crew this season? Who do you think will have to step up and lead this team?
"If Robbie Rogers can put together full 90 minute performances week in and week out, he could earn himself a spot on the Beijing Roster and MLS accolades. I've been watching Robbie since he was a teenager in California and he's got all the physical attributes you want in a wide player, but he sometimes disappears for stretches or complicates the game when a simple pass or quick combination would be a better choice. It seems like Schelotto is already on him about that and what better teacher can you have to work with you as a player, along with Crew Assistant Robert Warzycha. We've seen his growth as a player since last season and he's definitely raised his level of play and thought process."
3.) When announcing the recent Chivas-Crew game for Chivas USA, what did you think of the new supporters area and the supporters? How did it compare to when you were a player for the Crew? Btw, watched the game once I got home and heard you guys were not sure what to call the section. The whole corner is called "The Nordecke" North-Corner in German and the supporters groups consist of from left to right Columbus Supporters Union (age group usually 22-40), La Turbina (Hispanic group), Hudson Street Hooligans(usually 16-25).
"This one is tough for me because I always loved being able to walk out of the tunnel, turn to my left and see the supporters because they always seemed to get it. Now when you see the stage (please paint it black and yellow), it's a different feel. Watching The Nordecke (sorry guys, I blew it on the telecast and Sirk had told me the name before but brain farted it) bouncing up and down, flags waving, drums beating, jersey clad supporters in tune with the match. It was awesome, but I just wish they were able to be behind a goal near the tunnel."
4.) We are winning on the field and in the stands in the supporters section, in your opinion how do we get more people into the rest of Crew stadium? Do you think the recent play will be enough?
"Back in the Brian McBride days it seemed like people wanted to go to the games and the stadium always seemed to have 18-20k and a buzz about it. I know C-bus weather is not the easiest on supporters (a main reason why MLS isn't on the same FIFA calendar - bad weather = no fans), it's seemingly about putting a winning product on the field that makes the playoffs consistently and creates a buzz around the town. But that being said, it doesn't always mean that's the cure and a perfect example is Los Angeles and the difference in ticket sales between the Galaxy/Beckham and Chivas USA/a winning product."
5.) What do you think the Crew is missing right now to make a serious MLS playoff run?
"Depth pure and simple. With the MLS ruling about the number of players and salary cap limitations, it's put more of a focus on finding those young, highly motivated players who can slot in without missing a beat and play at a high level (ex. Moffat) without worrying about how much money they're making (for now). I'd say up until this last weekend against the San Jose Earthquakes, the Colorado Rapids have been the model for success and development in the Reserve League."
6.) Out of all the teams that you played for, did you have a favorite (like maybe the Crew,lol)?
"This one's difficult because scoring the goal against Colorado in the home opener in the 82nd minute in what seemed like our only win of the '05 season for Real Salt Lake was pretty cool. But in the short amount of time I was in Columbus and the great teammates (Duncs, Dante, McBride, Mais, Clarkey, McCarty, Frankie, Bushy, Martino, Diego, Westy, Dents, Jeffro, Edson, I could keep going.. can't forget Tucker, Sherry or Sirk), the success and just the overall feel of the city, it's hard not to think of myself still as a Crew guy."
7.) What was your best Crew moment?
"I'd say the best moment was winning the Open Cup at home over the LA Galaxy (even though we should have played them back to back for the MLS Championship the week before). It was great to look at Lamar Hunt's face, holding that trophy up in his original crown jewel of the MLS."
8.) Was it hard to leave the Crew for the Dallas Burn for conditional picks? What goes through a players mind when he is traded?
"It's funny because when you're an MLS player you're aware of the possibility that you may, can and will at some point be traded (unless you're one of the fortunate ones like Ben Olsen or Duncan Oughton). I had been through a trade and contraction (with Miami) before, but this one I wasn't prepared for what so ever. I was out coaching and when I got back in my car two hours later (after the trade deadline), I pick up my phone and knew right away that I had been traded since I'd missed 13 calls. It's get extremely complicated after that and something that's not even worth going back over, but it wasn't handled the way i'd hoped for, but such is life for a professional athlete. As for the trade itself to Dallas, it was difficult because at the time they were playing on turf in a high school stadium, Morrow and Kreis had long term injuries and the team had won four or five times the entire season before I got there and was already out of the playoff picture. Then Mike Jeffries gets fired, GM quits, new interim coach, new GM who knew nothing about soccer at all and to top it off, it's a contract extension year..."
9.) During your time with the Crew what other players had a big effect on your game and how you played? Who did you look up to?
"Obviously a guy who kills himself with honest play and effort everyday is a role model. Look no further than Brian McBride for that and I think he's proving it by being in the Premiership and scoring goals at this stage in his career. But just on heart and soul alone, I'd say guys like Duncs, Mais and Clarky who the Crew's Crest and Logo are based upon."
10.) How was it like to play in Bodens BK in Sweden? Did you know "swedish"? Any new cultural things that you had to get used to? Any cultural mishap stories? What was the difference between MLS and Bodens BK?
"It's funny because a lot of people had asked me why Sweden? At that point of my career I was just disheartened with everything. Clive Charles (my Olympic Team coach) had just passed three months earlier and he was someone that played a huge role in my life and with everything going on with contracts, money, trades and disappointments, I just wanted to get away and not live by someone else's rules. That being said, I don't ever want anyone to think I'm complaining at all because I chose this and could have walked away at any time. I could have gone into the real world, but no, I chose that life and it's just part of what comes with playing a sport and getting paid to do so. Bodens BK was a second division Swedish team in the northern part of Sweden (Norbotten) and I lived on the water in a city called Lulea.
The club took care of the apartment, car and all the little things allowing me to just play Fotboll and while it lacked what I was truly looking for on the soccer side of things, I wouldn't have changed it at all and am still fortunate enough to stay in touch with 6 teammates from the club (which was over 100 years old). The culture, the people, the language and the ability to be by yourself in another country and survive was special, besides learning to say some really awful stuff to girls in the clubs in Swedish. When I got back to the states I was actually responding in Swedish and one of the reasons for that was because all of the television there came in it's original programming, just with Swedish subtitles. I had the chance to play against the big Allsvenskan clubs and was looking to move to one of those before I got the call from John Ellinger (my former Olympic Assistant) to come back to play for Real Salt Lake."
11.) Do you ever wish that your time with the Crew would have been longer? Do you wish you were still playing today for the Crew?
"At that point in my career, yes I wish I had been a part of the Crew for a lot longer, but I'm content with the way things have played out. If I hadn't been traded, the dominoes would not have fallen the way they have and I most likely wouldn't have ended up in Salt Lake where I met my wife. Shit, that sounds cheesy right?"
12.) What are your plans for the future? Do you expect to continue to be involved with soccer through broadcasting or some other means?
"Besides our extremely overpriced clothing line Bumpy Pitch ;-), my former Cal St Fullerton teammate Ben Hooper, Ace Harrison and I have created The Original Winger which is an extension of our daily thoughts, motivation and ideas behind Bumpy Pitch.
The television stuff that I've done so far is something that I've wanted to do since I started playing. Along with Fox Soccer Channel sideline reporting and UEFA/Olympic Qualifiers/Champions Cup/Friendlies, I'm fortunate enough to be a Color Analyst for Real Salt Lake and Chivas USA (sometimes) and just hoping to learn more with each broadcast. The behind the scenes stuff that goes into the production of just one game is a sight to be seen."
13.) What are your thoughts on being the first man in MLS to be on the roster of seven different teams? Why did you get traded that much? Was it disappointing never to land with a team for an extended period other than the Crew? (If this is a touchy subject feel free to skip it, just kind of find it interesting.)
"I knew that question was coming! Here's the thing about being traded or cut or whatever it is they want to define it by, it's actually a back handed honor to me. Listen, I know I was never the best player in the MLS, but I gave all that I had in practice day in and day out, did my service in the communities I was in without ever complaining and when I put the jersey of the team I played for on, I cared. There were players that had more skill in the pinky toe than I had in my whole body, but if you threw in a tape and watched a game that I played in, I hope you'd come away with at least enough respect for me for the way I played the game.
I grew up in an extremely unorthodox, but loving family and change has been something that I've been used to. I've bought two houses that I'd lived in for less than 6 months before I was traded and had great friendships that I had to leave and it sucks to get traded, unless you're asking to be traded because you're unhappy but like I said earlier, if you don't like it, don't do it. The flip side of that argument is if you've signed a contract and you're expected to honor it (Ex. Taylor Twellman), what about the trades? Do you still abide by that honor?
I can honestly say that I would never have changed any of the things that happened."
14.) What did you think of the GM and coaches during your time with the Crew? What kind of advice would you give the front office to not make the same mistakes that began slightly during your time with the team?
"I think as a player, you never truly know what's happening or going on behind the scenes. The GM, Coach, roster, finances, stadium, travel and media all influence one decision or another and now that I've been out of the game and been around "office guys", I've been able to get a better understanding of all the issues that they face daily.
From a players perspective, I'd say just a little more honesty and better communication is the number one thing players are looking for. But on the flip side, the countless amount of times that players are named in perspective trades or roster moves that never come to fruition is unbelievable. If you let a player know every single time, they'd never be able to focus on the upcoming matches."
15.) What is your advice for young kids who love soccer and are trying to make it to MLS one day?
"Play. Play as many games as you can and if you have the ability to play with the older kids or up a couple of years, do it. It will make a huge difference in your development physically and mentally."
16.) What was your best moment in soccer as a player? as an announcer? as a fan?
"The best moment I've ever had was leading the US Olympic Team onto the field in Sydney as Captain for the Bronze Medal match against Chile. As a fan it would be the first day I joined the New England Revolution in July of 1997. I had just gotten back from the US Under-20 World Cup in Malaysia three days before and went to the teams hotel in Pasadena before a match 2 days later on July 4th. The team hadn't gotten there yet and after I checked in, I went to my room not knowing who my roommate was. About 30 minutes later, Mike Burns, Alexi Lalas and Joe-Max Moore walk in my room and I start thinking to myself immediately that I'm going to get initiated something terrible, but also holy shit, these are my heroes and the guys I look up to. But they just wanted to come in and say hello and welcome me to the team and I've got to thank Clive Charles for that because the following January I was invited to the Full National Teams camp in Orlando and those three guys were always looking out for me."
Thanks for answering these questions Brian. Next time your in Columbus your welcome to stop by Ruby Tuesday's and drink some beer with the supporters and come sit in the Nordecke. Cheers.