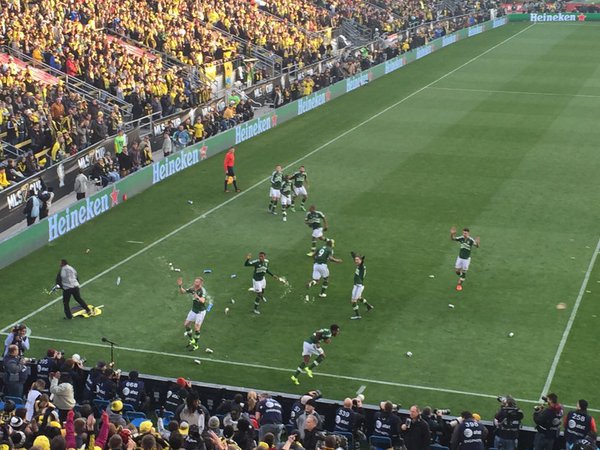 Columbus Crew (12-8-8) - 44 points- Fourth place in the East @ Portland Timbers (12-8-8) - 44 points- Sixth place in the West
The Columbus Crew and Portland Timbers come into their 29th contest of the 2018 season with the exact same record.
The two clubs even somehow have identical home and away records.
After 28 games,

#CrewSC

have 44 points and a 12-8-8 record with a +1 goal differential. They are 9-2-3 at home, 3-6-5 away.

After 28 games, Portland Timbers have 44 points and a 12-8-8 record with a +1 goal differential. They are 9-2-3 at home, 3-6-5 away.

— Darby Schnarfus (@tokenliberal) September 17, 2018
Their equivalent paths do not end there.
There's been a bit of an ET situation between Columbus and Portland since the 2015 cup. Both failed to qualify for the playoffs in '16. They finished the 2017 season within a point of each other. They have exactly the same record through 28 games this season.

#CrewSC https://t.co/lGsLEhLWK8

— Andrew Erickson (@AEricksonCD) September 17, 2018
Portland nevertheless is in more of a must win scenario Wednesday.
Vancouver is only four points back of grabbing sixth place from the Timbers.
Interestingly enough the fight for the final two spots in the West could be a Cascadia battle between Portland (44 points), Seattle (44 points), and Vancouver (40 points).
In contrast, Columbus finds themselves nine points ahead of seventh place DC United.
However, with a Wayne Rooney led DC United 5-2-2 in their last nine contests and undefeated so far in September Columbus may not want to catch NYCFC's third place position.
The third place finisher in the East will likely play DC.
I say bring it on. You have to try to finish as high up as you can.
Crewture's projected Crew lineup:
Columbus (4-1-2) in their last seven contests finds themselves improving when they need to improve. Berhalter can get a team trucking at the end of a season when there's a reason to.
Other than giving US National Team captain Wil Trapp a 73 minute breather,
Columbus has started this lineup the last two games
.
Portland Timbers projected lineup:
There hasn't been a ton of fluctuation in the Timbers starting lineup at this part of the season.
But, I'm guessing Portland will likely go for the lineup that led to a 2-0 win over Colorado on 9/8, compared to the one that led to a 4-1 shellacking at the hands of Houston on 9/15.
Basically Polo back in for Paredes.
PREDICTION:
2-1 Columbus. Columbus has the better team, if they go at it correctly see a surprise on the road to begin a diverging path.